Does this sound familiar?
At a time when expectations regarding research have never been higher, research teams are relying on broken IT systems
Multiple resource management systems
Stop running after your data, let workflows bring it to you
According to one of our studies, over 80% of research organizations still use several different core facility management and scheduling systems. This makes it very complex for users to get the resources they need to run their projects and it's counterproductive for the whole organization. Our research shows that, on average, scheduling systems can impact 25% of total experiment workflow time.
Manual processes across various IT silos
Get your resources in one click
Legacy IT silos and lack of integration make it cumbersome for teams to cooperate on research projects. Data integration and management workflows relying on manual re-entries are error-prone and slow down projects. This puts a heavy burden on research organizations at a time when cooperation becomes indispensable to tackle increasingly complex problems and drive innovation.
Gaps in traceability and reproducibility
Ask the knowledge base
90% of researchers are still working on paper notebooks to design and document their experiments. Experimental data is fragmented over incompatible systems, leading to time-consuming consolidation work when results need to be documented and made available. Traceability, reproducibility, capitalisation and sharing of knowledge are challenging, even impossible when data is lost because of people leaving with their notebooks or when one can't decipher hand-written notes.
Complexity and high costs of data management
Bring it all on one cloud platform and get ready for AI
Bridging legacy systems to facilitate the flow of data isn't easy. Maintaining those bridges comes at high costs as technology and business needs keep changing. And this leaves users with the complexity of juggling with various systems and sometimes dated user interfaces. At the end of the day, this translates into poor user experience and lack of agility.
new

Lab

One single collaborative cloud platform offering a 360° view of your research portfolio Ideas I Projects I Experiments I Resources I Data I Knowledge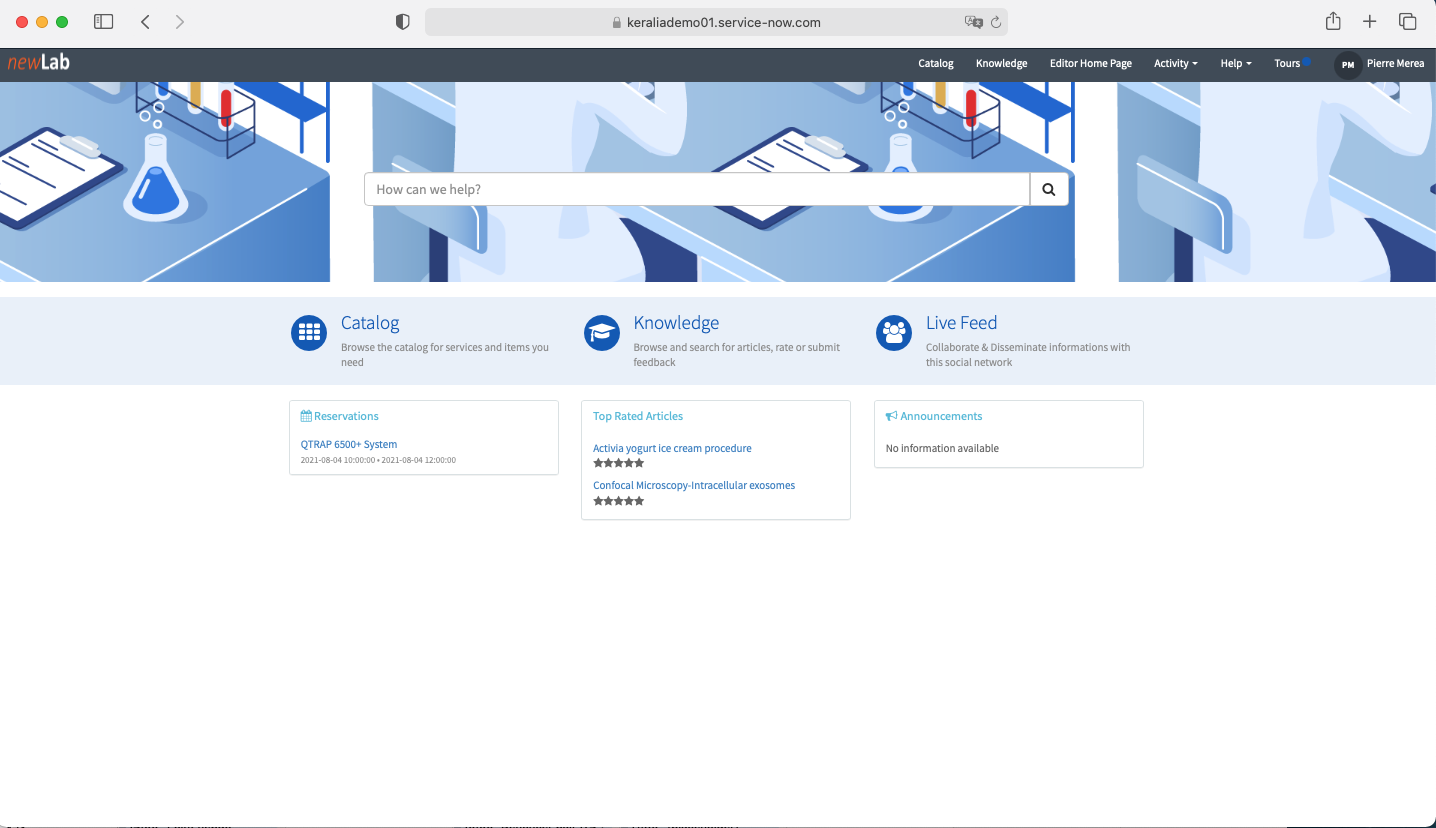 newLab® Portal
newLab® Portal is the next generation of core facility management systems, offering to core users a truly service-oriented experience matching the very best internet consumer services. With newLab® Portal, you can run your central labs, core facilities and/or shared infrastructures, like pilot plants for example, as a service. newLab® Portal comes with powerful workflow automation and reporting capabilities, that help you optimize your R&D infrastructure and save time to focus on science and innovation.
Instruments, services and knowledge at your fingertips from one single portal
Graphical flow designer to create custom workflows for automating operations and cutting down administrative and technical workload
Intuitive reservation system to find and book instruments, training and other services in a couple of clicks
Extensible configuration management database for a consolidated view of infrastructure
Intelligent search engine to help match relevant protocols and knowledge with fit-for-purpose instrumentation
Fully customizable dashboards for managing all aspects of your business, like bookings, users, invoicing, etc., from your personal digital cockpit, anytime, anywhere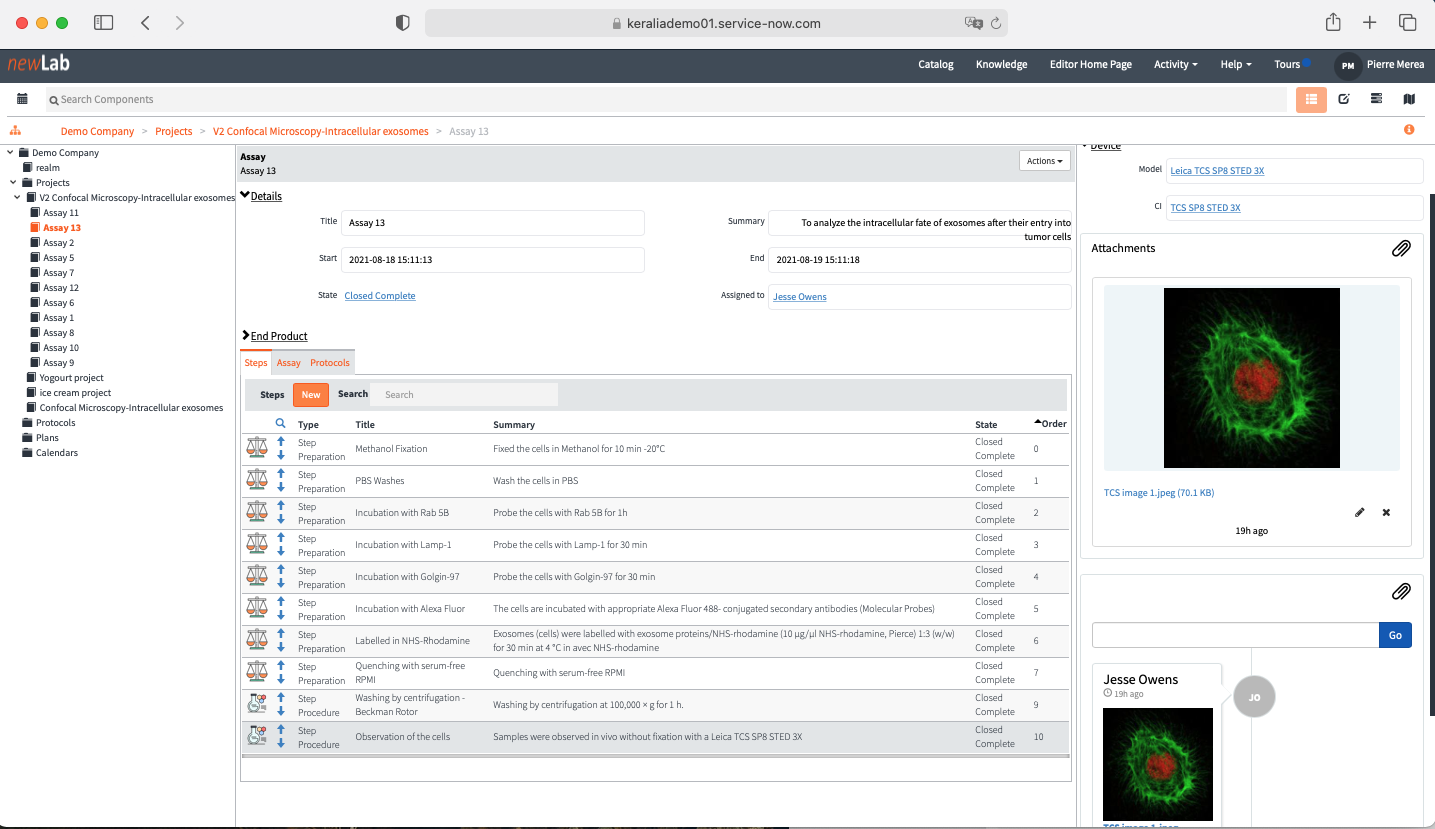 newLab® Notebook
newLab® Notebook is a collaborative Electronic Lab Notebook (ELN) that helps R&D teams design, document, record, schedule, retrieve and share experiments and assays. Teams can work together on the same projects, and easily share protocols, data and results. Instruments, reagents, consumables and other resources are automatically reserved by newLab® Notebook once the experiment design is completed and scheduled. Protocols and results can be published and shared with newLab® knowledge base, avoiding rework.
Create from scratch or import protocols or recipes into your notebook to design experiments and assays
Manage sample lifecycle and ensure full traceability of samples and materials used at each step of the experimental workflow
Check availability of resources, like inventory and instruments, directly from your notebook
Create custom workflows connecting instruments and data analysis software to automate data flow and link data to experiments
Schedule each experiment step with all necessary resources from your notebook, in one go
Capitalize on past experiments and assays, and get ready for AI, with all your data consolidated on one single platform
Collaborate with your team on the same experiment, in real time (assign tasks, ask questions, share data, etc.)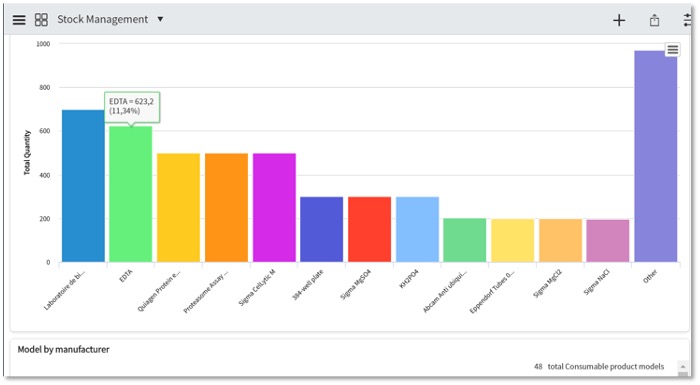 newLab® Resource Manager
newLab® Resource Manager enables the consolidation on one single platform of all lab resources (instruments, inventory, samples, consumables, protocols, procedures, documentation, etc.). With newLab® user management features, user profiles can be adjusted to define what users can see and do within newLab® Resource Manager, enabling lab and facility managers to locally manage their own inventory and equipment while having a view on global resources. newLab® Resource Manager can be used as a standalone module and is also included in newLab® Notebook.
Bring all your labs and facilities on the same platform for inventory management, reducing duplication and waste of stocks, and eliminating spreadsheets
Share real time information about what samples and quantities of products you have, their status and where they're stored
Streamline inventory management with automated data entry and update
Share real time information on the utilization and status of your instruments and other technology assets
Manage technical documentation and procedures from one single knowledge base