Does this sound familiar?
Most R&D organizations are struggling with fragmented applications, incompatible data silos and time-consuming manual processes, hindering their capacity to respond to pressing innovation needs.
Can't find that project your team worked on 6 months ago?
Stop running after your data, let workflows bring it to you
Some research indicates that scientists spend up to 40% of their time collecting, moving, or somehow wrangling with data, before even working on interpretation. This is as much time they don't spend on science! At Keralia, we're convinced that a modern digital workplace, powered by automated workflows, such as newLab® Notebook, can take most of this hassle away and let scientists focus on their essential work. Plus, having all your projects and experiments on the same platform is a foundation for AI-ready research.
Tired of emails, spreadsheets and shared calendars ?
Get your resources in one click
Historically, lab equipment and inventory have been managed locally. As a result, most R&D organizations still rely on multiple scheduling systems and don't have a consolidated view of their inventory. Not only this leads to duplication of costs, under-utilization of resources and/or waste of materials, but it's also a major waste of time for research staff. With newLab® Store and newLab® Resource Manager, lab managers can still manage their own stuff while giving access to shared instruments, inventory and other resources or services in a couple of clicks, all from one single place.
Don't know whom to ask for best practices or similar experiments ?
Ask the knowledge base
As everyone knows, putting collective knowledge to work is always more efficient than trying it alone. The problem is, most of the time, you don't know who could help answering your questions. In large organizations, linking problem-owners to the team members with the best shot at finding the solution often is a challenge. This is where newLab® Knowledge Base comes in handy, putting the knowledge of your entire organization at the fingertips of everyone authorized, easily findable in a couple of clicks with a google-like search engine.
You're all drained in maintaining complex data silos ?
Bring it all on one cloud platform and get ready for AI
Bridging legacy systems to facilitate the flow of data isn't easy task. Maintaining those integrations comes at high costs as technology and business needs keep changing. And this leaves users with the complexity of juggling with various systems and user interfaces. Switching to a platform approach, like newLab® on ServiceNow®, makes all applications plug-and-play, using the same data model and technology components. The impacts are reduced maintenance costs and improved agility to address ever-changing business needs.
Your open cloud workflow platform to transform work in R&D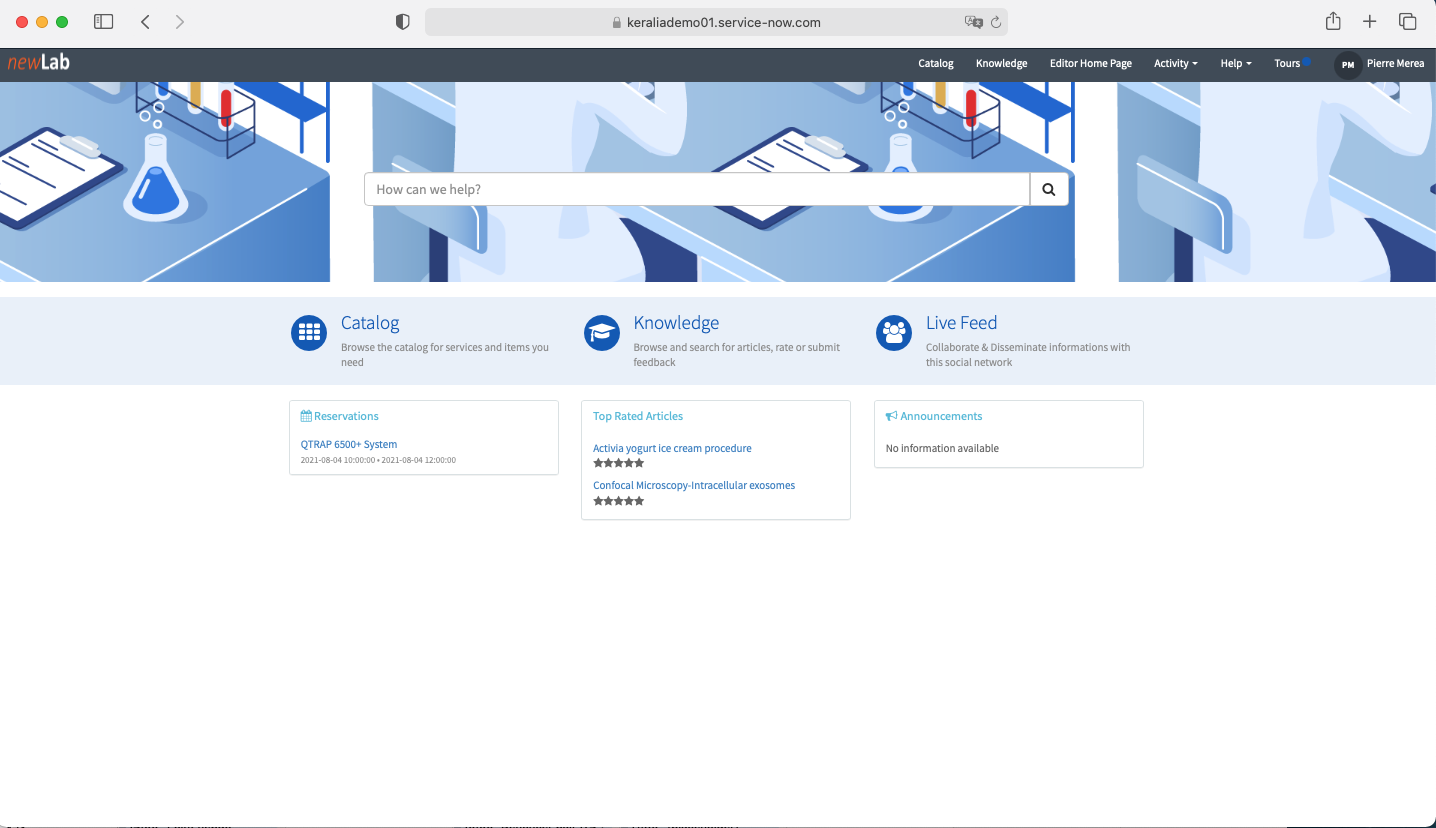 newLab® Store
newLab® Store is the next generation of core facility management systems, offering to core users a truly service-oriented experience matching the very best internet consumer services. With newLab® Store, you can run your central labs, core facilities and/or shared infrastructures, like pilot plants for example, as a service. newLab® Store comes with powerful workflow automation and reporting capabilities, that help you optimize your R&D infrastructure and save time to focus on science and innovation.
Main features
Service portal
Catalog management
Reservation management
Request management
Usage & billing management
User management
Dashboards
Workflow automation
All newLab® Resource Manager features included
Instruments, services and knowledge at your fingertips from one single portal
Graphical flow designer to create custom workflows for automating operations and cutting down administrative and technical workload
Intuitive reservation system to find and book instruments, training and other services in a couple of clicks
Extensible configuration management database for a consolidated view of infrastructure
Intelligent search engine to help match relevant protocols and knowledge with fit-for-purpose instrumentation
Fully customizable dashboards for managing all aspects of your business, like bookings, users, invoicing, etc., from your personal digital cockpit, anytime, anywhere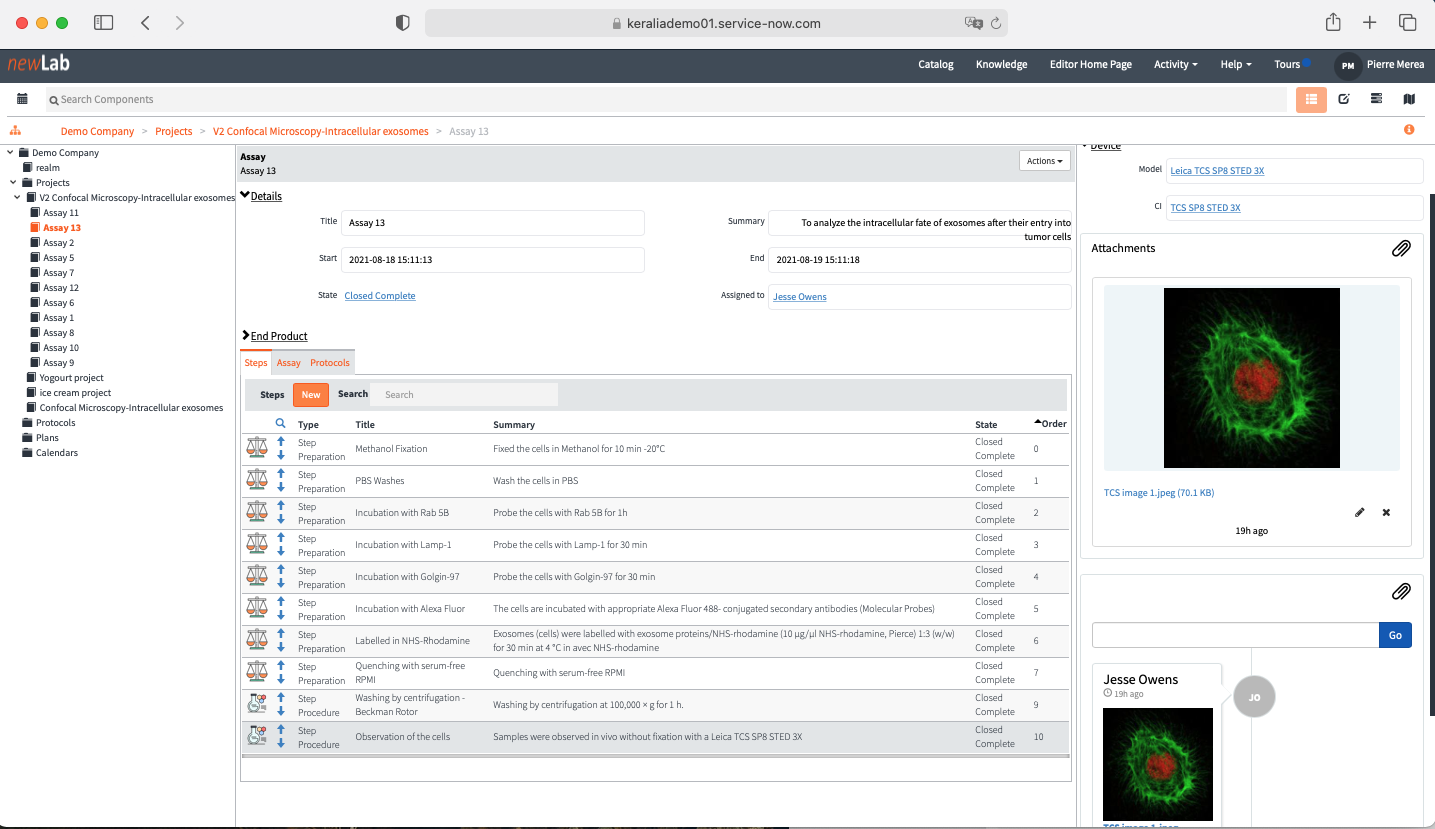 newLab® Notebook
newLab® Notebook is a modern and collaborative Electronic Lab Notebook (ELN) that helps R&D teams design, document, record, schedule, execute, retrieve and share experiments and assays. Teams can work together on the same projects, and easily share protocols, data and results. Instruments, reagents, consumables and other resources are automatically reserved by newLab® Notebook once the experiment design is completed and scheduled. Protocols and results can be published and shared with newLab® Knowledge Base, avoiding rework.
Main features
Protocol editor
Experiment design & scheduling
Experiment Execution
User management
Dashboards
Workflow automation
All newLab® Resource Manager features included
Create from scratch or import protocols or recipes into your notebook to design experiments and assays
Manage sample lifecycle and ensure full traceability of samples and materials used at each step of the experimental workflow
Check availability of resources, like inventory and instruments, directly from your notebook
Create custom workflows connecting instruments and data analysis software to automate data flow and link data to experiments
Schedule each experiment step with all necessary resources from your notebook, in one go
Capitalize on past experiments and assays, and get ready for AI, with all your data consolidated on one single platform
Collaborate with your team on the same experiment, in real time (assign tasks, ask questions, share data, etc.)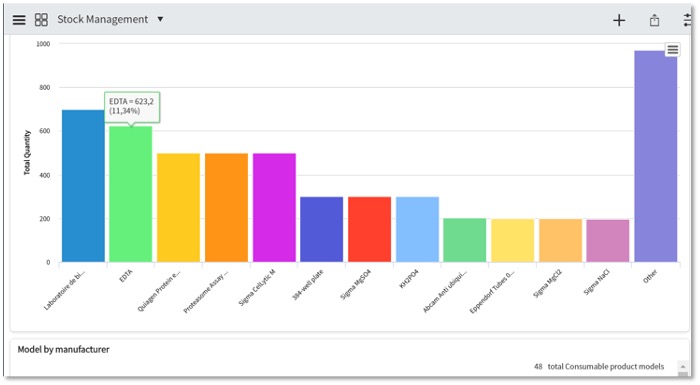 newLab® Resource Manager
newLab® Resource Manager enables the consolidation on one single platform of all lab resources (instruments, inventory, samples, consumables, protocols, procedures, documentation, etc.). With newLab® user management features, user profiles can be adjusted to define what users can see and do within newLab® Resource Manager, enabling lab and facility managers to locally manage their own inventory and equipment while having a view on global resources. newLab® Resource Manager can be used as a standalone module and is also included in newLab® Notebook and newLab® Store.
Main features
Instrument management
Inventory management
Sample Management
Knowledge Management
User management
Dashboards
Workflow automation
Bring all your labs and facilities on the same platform for inventory management, reducing duplication and waste of stocks, and eliminating spreadsheets
Share real time information about what samples and quantities of products you have, their status and where they're stored
Streamline inventory management workflows with automated data entry and update
Share real time information on the utilization and status of your instruments and other technology assets
Manage technical documentation and procedures from one single knowledge base