Service Management can be defined as a set of specialized capabilities (organization, processes, people, technology, knowledge) used for providing value to customers in the form of services. Service Management has emerged as a concept about 30 years ago to improve the quality of IT services. Service Management best practices have been documented in a public framework called ITIL. ITIL guidance has since been widely accepted and implemented by thousands of technology service providers worldwide.
As scientific technologies become more complex, core facilities have emerged as an efficient and cost-effective model for sharing expertise, knowledge and high-end technology resources. Like in IT, there is no such thing as a typical core facility. They may vary in size and scope from a couple of specialists to big international infrastructures, and from an internal focus to serving actual paying customers.
As this model gains acceptance, there's a need to progress on the maturity curve in order for core facilities to deliver on expectations from their communities of users and/or customers and become true service providers.
This post highlights some key areas where Service Management best practices can add value to core facility services.
The Service Management framework
From its inception in the mid-eighties to the last version released in 2019, and known as ITIL 4, the ITIL framework has evolved from IT and technology management to a truly universal service management model.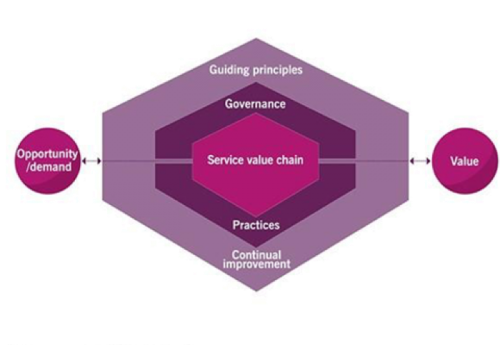 If you look at the model above with a core facility in mind, are there any parts that would be irrelevant?
Starting with demand means creating a model fostering in-depth understanding of users' and/or customers' needs. Focusing on opportunities means turning your core into a proactive service provider, actively looking for technology innovations to improve methods and protocols, or enable brand new research approaches.
Creating a true service culture
The ITIL 4 framework reminds us that value is co-created through active collaboration between service providers and customers. This means that core facilities should seek to establish mutually beneficial and interactive relationships with their users, internal and/or external alike. We should also never forget that the perception of value by customers is an essential dimension for the evaluation and the management of services.
Therefore, ITIL 4 has defined 7 universal and enduring guiding principles for fostering a true and lasting service culture:
Focus on value
Start where you are
Progress iteratively with customer feedback
Collaborate and promote visibility
Think and work holistically
Keep it simple and practical
Optimize and automate
The service value chain
The service value chain is the central component of the ITIL 4 model. The service value chain is an operating model, based on the value chain concept, which describes the main activities that should be deployed to respond to customers' demand and to enable value creation for the customer through the creation and management of products and services. It's important to realize that all activities are interconnected and that the performance of the entire service value chain is defined by the lowest performing activity.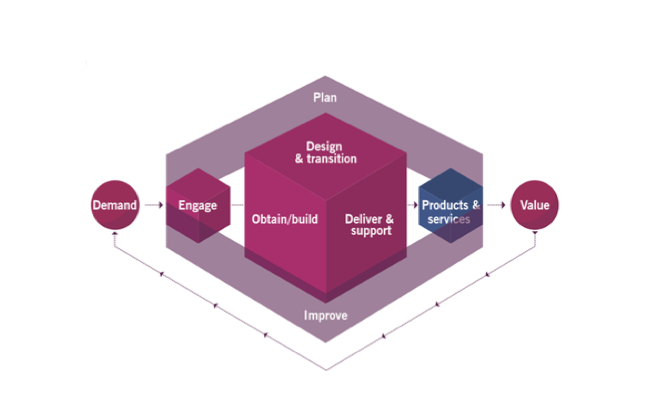 Among the practices documented in ITIL 4 to support the implemention of the model, here are the ones I believe would be most beneficial to core facility management:
Continual Improvement, a high level model to incrust on-going service improvement initiatives based on actual customer feedback in the organization.
Knowledge Management, a structured approach to defining, building, re-using and sharing knowledge (i.e information, skills, standard operating practices, experimental protocols, etc.) in fit for purpose forms (i.e in the proper format, at the right level, at the right time, etc.).
Portfolio Management, ensure that the organization has the right mix of programmes, projects, products and services to execute its strategy within its funding and resource constraints. For instance, core facilities could address within portfolio management questions like:
What new technologies (products) should we consider in line with the research areas we are serving?
What new methods can we build on existing and/or new technologies?
What programme should we launch to maintain/increase our competitive advantage?
Capacity Management, ensure that services achieve agreed and expected performance, satisfying current and future demand in a cost-effective way. In particular, core facilities should have a capacity planning in place, based on actual and projected usage metrics for intrumentation and support staff.
Incident Management, ensure that the impact of operational incidents, e.g failure of an instrument, are kept to a minimum and that normal service operation is restored as quickly as possible.
Asset & Configuration Management, plan and manage the lifecycle of all assets used for the delivery of services (i.e instruments, computers, software, sensors, consumables, reagents, etc.). Asset management helps the organization maximize value, control costs, manage risks, support decision-making (about purchase, re-use, retirement of assets) and meet regulatory, compliance and contractual requirements. Configuration Management ensures that accurate and reliable information about the configuration of services, and the configuration items (i.e assets) that support them, is available when and where it is needed.
Monitoring & Event Management, a model for systematically monitoring service components (e.g sensors, instruments) and recording selected changes of state identified as events through automated notification processing and/or monitoring tools.
Service Catalog Management, guidance to create and manage a web portal that provides a single source of consistent information on all service offerings and ensures that it is available to the relevant audiences. To be perceived as useful by customers and/or users, the service catalog must support customer engagement vs being a static website for publishing information about services. For instance, the service catalog must support discussions about standard and non-standard service offerings, and/or automate request and order fulfilment processes.
Service Level Management, set clear business-based targets for service levels and ensure that service delivery is properly assessed, monitored and managed against these targets.
Key takeaways
Core facilities can adapt proven service management best practices to create more value for their users and customers.
Core facility managers can avoid reinventing the wheel by tapping into off-the-shelf operating model and practices.
ITIL 4 is an open framework that can be tailored to research specific needs.